In 2018, Reel Youth visited Blackfoot Territory (Lethbridge, AB) and facilitated an intergenerational Indigenous documentary filmmaking program. The project brought youth and Elders together to strengthen their connections, build storytelling skills, and produce short films that celebrate the lives and culture of the Elders.


|   Programs  |  Film Festival  |  International  | About Us |
© 2019 Reel Youth - All Rights Reserved
Artwork byJordan Bent
In partnership with:



Made possible with
financial support from: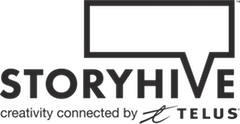 See the rest of the photos here.