These films were made in the 2019 Penticton Video Production Program, made possible with financial support from Telus StoryHive. Local youth, excited about filmmaking and interested in using film for social change, learned how to plan, produce, and edit in small teams over an intensive five days. They created these 4 short, issue-based films.
In our work we strive to embody what we hope to see in the world—a just humanity and community in which people are free to be themselves fully and without fear. A community where no one is exiled or silenced because of gender, gender expression, race, color, ethnic or national origin, religion, sexual/affectional orientation, age, class, physical character or disability. We believe in the power of storytelling to make connections across difference.
|  Programs  |  Film Festival  |  International  | About Us |
 © 2019 Reel Youth - All Rights Reserved
Artwork by Jordan Bent
This program is made possible by: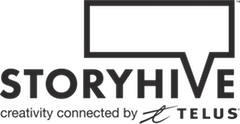 In partnership with:
Penticton Art Gallery
See the full photo set here!